The Department of Creation and Destruction (DCD) is one of six (rumored, seven) departments at A New School. Their subjects of study include art, physics, chemistry and environmental science, and they meet in the Barn.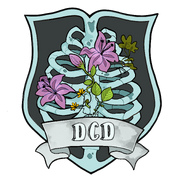 Averno Bible Description
[
]
Leftover from the time that A New School was a farmstead, at the edge of campus sits a barn and a silo. At least, that's what they used to be, before the DCD got ahold of them. The Barn now functions as a remodeled live-in studio. On the top floor, in the old hayloft, students sleep in hammocks made by the textile students. One half of the barn has been replaced entirely with glass, and sunlight streams in on the visual artists. The other half, outfitted with high-speed internet, coffee makers, and enough cushy armchairs to house a small army, is home to the writers. If you listen closely you can always hear someone talking about their new idea, swearing because someone pointed out a plot hole, or trying desperately to convince their friend to beta read their new piece. Haphazard stacks of books creep up the walls, and art covers every available surface. The Creation Kids believe vehemently in reckless, boundless, and fearless creation as the only way to survive. Outside in the silo, the other half of the department can usually be found working on homemade recipes for explosives, demolishing test crash dummies, developing new formulations for jet fuel, or just blowing up a car because they can. There is beauty in destruction, they have found, poetry in the finality of it all. Out back is a garden, tended to carefully (and ferociously protected when the destruction kids accidentally set things on fire). The creation kids grow pomegranates and jasmine, chamomile and mint- somehow, anything will grow in this sticky, honeyed Virginia dirt. But, come rain or shine, at 5:30 all of the students have tea together in the back field, covered in paint and ink, soot and dust, and watch golden hour hit the rolling hills that sink down to the castle.
Professors
[
]
Rhoan Crothers - Department Co-Head and professor of Science
Catherine Nguyen - Department Co-Head and professor
Olivia Trung - Professor of Art
Greta Vigdis Trygvason - Professor
Majors
[
]
The majors for this department include Chemistry, Physics, and Art.
Known DCD Students
[
]
Trivia
[
]
The crest of the Department of Creation and Destruction (pictured above) includes several pink six-petal flowers growing out of a skeletal rib cage.
The department colors are lavender, grass green and sunflower yellow.
DCD has a pet possum named Sebastian.
They once had a prank war with DUE, it is now over.